Is Blepharoplasty (Eyelid Surgery) Worth It?
Posted July 01, 2022 in Blepharoplasty, Eyelid Surgery
3 Minute Read: 
The skin around the eyes is often one of the first facial areas to show signs of aging. While BOTOX® Cosmetic and other injectables can help minimize some of the lines and wrinkles around the corners of our eyes, non-surgical options have serious limitations when it comes to droopy eyelids.

Are You Living With Tired or Angry Looking Eyes?
Along with making us look older, wrinkly loose skin around the eyes can make us appear tired, uninterested, or even displeased and can leave others with the wrong opinion.
If you're used to receiving compliments on your gorgeous eyes, sagging eyelid skin will detract from your natural beauty and make your eyes look smaller.
Why a
Facelift
Won't Help
If you have other facial concerns like loose skin and wrinkles on your lower face, jawline, and neck, a facelift can correct these issues; however, this transformative procedure does nothing for the upper face. 
This is why many plastic surgeons recommend adding a blepharoplasty to a facelift for a full face rejuvenation.
Eyelid Surgery Can Provide
Dramatic Results
Eyelid tissues are thin and delicate, causing the eyes to develop signs of aging before other parts of the face and body. Significantly droopy upper eyelids can even obstruct vision, which can make routine activities like driving more complicated and even dangerous. 
If sagging upper eyelids or bags under the eyes are interfering with your eyesight or making you look tired and older than you feel, a blepharoplasty may be the right solution for you.
What Does a Blepharoplasty Procedure Involve?
Upper eyelid surgery begins with a small incision being made along the existing natural lid crease. A second incision is made to excise the excess skin between the upper lid and brow. The scar left from this process blends in easily with the eyelid's natural crease. 
The incision is made along the lower lash line in a lower eyelid blepharoplasty. Fatty deposits and excess skin are removed, providing a smoother, tighter under-eye appearance, with this scar also being undetectable. 
Eyelid surgery typically takes up one to two hours, depending on the amount of loose skin and puffiness.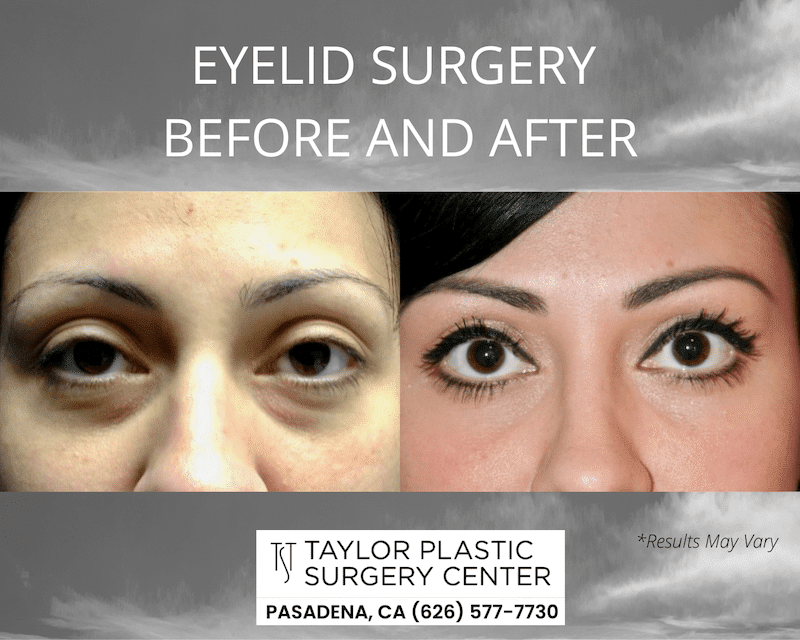 Check out Dr. Taylor's photo gallery of before and after blepharoplasty pics. 
Is Eyelid Surgery Painful?
Local or general anesthesia is administered so you won't feel any pain during your procedure. However, after your surgery, you will likely experience some swelling, bruising, and discomfort. 
Prescription pain medication can be provided, and the use of a cold compress for swelling is recommended. You will also be using an ointment to keep the small incision sites lubricated.
Interested in Eyelid Surgery in
Pasadena, CA
?
If you want brighter, younger-looking eyes and live in or near Pasadena, California, you can have your eyelid surgery performed by the highly-esteemed plastic surgeon, Dr. Thomas S. Taylor. Our plastic surgery practice also serves all of Los Angeles.
Call us today at (626) 988-4287 for more information or to schedule a consultation. Our helpful staff is standing by. You can also schedule an appointment online by scrolling down to the bottom of this page.