Many women feel that the appearance of their breasts defines who they are and as such affects their overall self-image. This isn't surprising since breasts are the symbol of femininity. If a woman is unhappy with the appearance of her breasts, breast augmentation allows her to change the shape and size of her breasts, which is why this procedure is one of the most popular plastic surgery procedures year after year. Whether you've always had small breasts, or have lost volume or shape due to pregnancy or weight loss, breast augmentation is an excellent option to help you achieve your goals.
Schedule Your Consultation Today
Achieved with Breast Augmentation
FULLER CHEST
Breast augmentation uses saline or silicone implants to increase the size and improve the shape and symmetry of the breasts. The result is a larger, more voluminous breast area. Breast augmentation can change the overall physique of the woman's body in a positive way, which can boost her confidence and improve her self-esteem.
Dr. Taylor has helped many women achieve fuller breasts with breast augmentation in Los Angeles. He will analyze the patient's body frame and help her choose the size and shape of implants that will best complement her physique.
RESTORE CONFIDENCE
Many women find when they are lacking in breast size, particular styles of clothing do not fit correctly, or they just don't feel right in their own skin. Overall, a woman's breast size and shape can affect her self-image. Breast augmentation boosts a woman's confidence and improves her self-esteem.
Women who have had a breast augmentation often claim they not only look better but also feel better on the inside. Women often feel as if their breasts have changed their entire physique. After breast augmentation, they often find their clothing fits better, they have a more proportionate figure, and their self-image is restored.
PERSONALLY TAILORED RESULTS
Every breast surgery is designed individually to the patient's preferences and results they wish to achieve. Dr. Taylor will examine each patient and discuss with her the breast implant types, incision options, and implant placement.
During your consultation, Dr. Taylor can go over all of the breast augmentation options. Once all of the details have been discussed, he will tailor your breast augmentation procedure to your individual goals and preferences.
What Does A Breast Augmentation Entail?
PROCEDURE
Breast augmentation can help a woman achieve larger, more shapely breasts by increasing the size and improving the shape and symmetry of the breasts using implants. Overall, a breast augmentation can make the body more symmetrical and proportionate to the rest of the body.
When performing a breast augmentation, Dr. Taylor will help each patient decide on the best technique, the implants to use, and the location of the incision. He will insert saline or silicone breast implants through an incision either in the breast crease, around the nipple, or in the armpit. Dr. Taylor will create a pocket and insert the implants beneath the breast tissue or under the chest muscle.
RECOVERY
After Dr. Taylor places the implants and closes the incisions with stitches, he will apply a dressing to the site, which will remain in place for a few days. Patients can expect their recovery to last about two to four weeks. Prescribed medication will help alleviate any discomfort, aid in healing, and help prevent infection.
During the first few days of recovery, patients will need to rest and refrain from strenuous activity. Soreness and swelling are typical for the first few weeks. A sports bra or elastic bandage can be used to support the breasts and help with any soreness or swelling. Within a week, most patients can go back to work and resume their normal routine. However, patients should refrain from strenuous activity for six weeks.
SCARS
Scarring is usually minimal and, depending on the patient and how they heal, will fade over time. Dr. Taylor customizes each breast augmentation procedure depending on the patient's goals and his recommendations. He will either make an incision in the breast crease, around the nipple, or near the armpit.
COST
The cost of breast augmentation in Los Angeles varies depending upon the technique, surgeon's experience, and location of surgery. Dr. Taylor is an experienced plastic surgeon who has performed thousands of breast augmentations over the past 20 years. His attention to detail, skill, and passion can assure patients that they are receiving the best care possible when choosing him for their breast augmentation.
According to 2014 statistics from the American Society of Plastic Surgeons (ASPS), the average cost of breast augmentation surgery is $3,708. This cost doesn't include facility fees, anesthesia, and other related expenses.
PAIN
With the latest advancements in plastic surgery, breast augmentation involves minimal pain. During the procedure, patients will receive a general anesthetic so they will not feel any pain or discomfort during the procedure. Most patients have a positive surgery experience, and only feel temporary discomfort from the swelling and bruising, which is easily controlled with oral medication.
Want to see your
new you after the procedure?
With Crisalix 3D technology, simulate the different options and select your favorite.
Request a 3D Consultation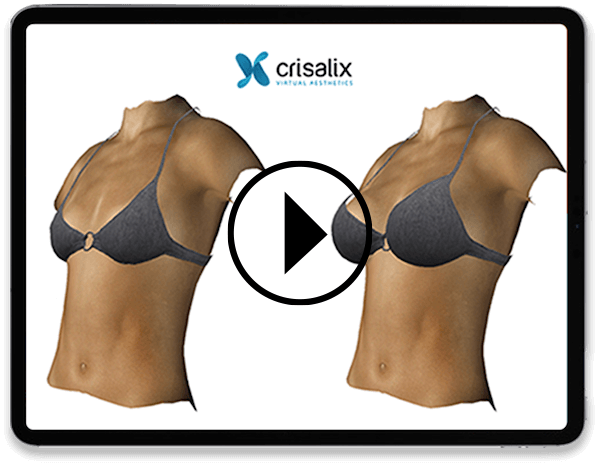 Are you ready for your transformation?
Schedule your free consultation today!
Schedule Your Consultation Today
Faqs
Who is the best candidate for breast augmentation surgery?

The best candidate is someone who wants to change the size and/or shape of her breasts, is in overall good health, and has realistic expectations of the procedure.

Who is the best candidate for breast augmentation surgery?

Although rare, some risks and complications associated with breast augmentation include:

Bleeding
Infection
Poor scarring of skin
Capsular Contracture
Wrong or faulty position of the implant
Anesthesia risks

Are the results from breast augmentation permanent?

Typically, patients enjoy their results from breast augmentation for many years. However, breast implants are not lifetime devices. With time, aging, pregnancy, and/or weight fluctuations, the size and shape of the breasts can change, and the implants will wear out requiring revision surgery.

Can breast augmentation be combined with other plastic surgery procedures?

Breast augmentation is commonly performed with breast lift surgery in cases where there is both volume loss and breast sagging. It can also be combined with tummy tuck surgery and liposuction. Combining two or more of these procedures during the same surgery is often called a Mommy Makeover.

Will I have to stay overnight after breast augmentation surgery?

No. Following your breast augmentation, you will be monitored in a recovery area for a couple of hours before being released to go home.
Thomas S. Taylor, MD, FACS