Which Lip Augmentation Technique Is Right for You?
Posted June 14, 2022 in Lip Injections, Lip Lift
3 Minute Read: 
Some people are born with naturally thin lips, while others develop thin lips as a result of the natural aging process. Regardless of the timeframe, having thin lips can be disheartening.
Whatever your reason for having thin lips might be, you can seek the services of a plastic surgeon to make your lips look fuller and enhance your overall facial appearance.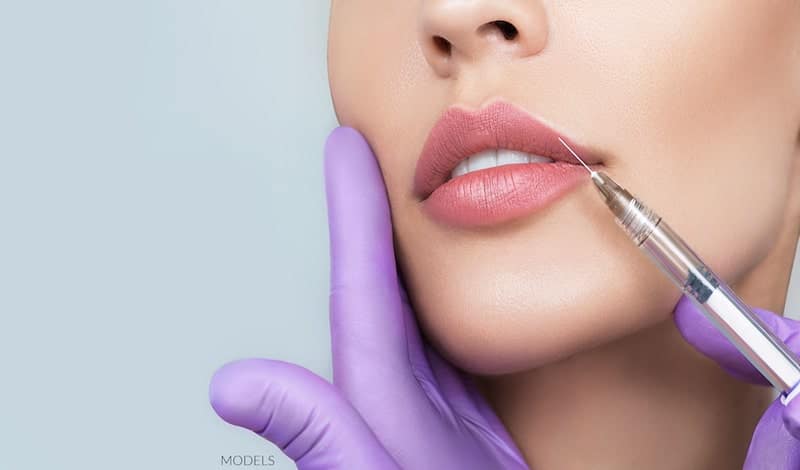 To this end, there are several lip augmentation techniques you can discuss with your plastic surgeon. The right one for you will depend on your goals and other factors. 
Examples of these techniques include the lip lift, fat transfer, and injectable fillers. 
To determine the best lip augmentation technique for you, you need to understand what each of them achieves
What Are You Hoping to Achieve With Your Lip Augmentation?
Are You Looking for Temporary Fullness?
Injecting artificial lip fillers into the lips is the most popular lip augmentation technique. 
Examples of artificial lip fillers include JUVÉDERM® and Restylane®. These fillers have hyaluronic acid, which is a naturally occurring substance that attracts and maintains moisture. These fillers not only add an immediate plump to your lips, but since the product also attracts moisture, your lips will look fresh and supple.
Dermal fillers can provide both subtle and significant lip fullness — depending on your personal preferences. There are both pros and cons to this treatment. 
PROS:
Non-surgical and non-invasive

: This is a simple injectable procedure that takes under an hour

Virtually painless

: These injections are nearly painless because they either contain lidocaine in their make-up or they are preceded with a topical anesthetic.

Customizable results

: Your provider can inject as little or as much as desired for entirely customizable results.  
CONS:
Temporary

: The biggest downside to fillers is their longevity. This treatment is not designed to be a permanent solution. In fact, most fillers last around 12 to 18 months before they need to be repeated. Over time, these repeated injectable treatments can prove to be more expensive than more invasive treatments.
Are You Looking for a Natural Augmenting Material?
Fat grafting is a great alternative to artificial fillers and implants. 
During the procedure, your cosmetic surgeon will harvest fat from your abdomen or another area of your body, clean it, and inject it into your lips. 
The procedure is performed under local anesthesia. The entire process should take less than two hours, and you will be allowed to go back home on the same day. You can expect the results to last five years or more. 
Since fat is obtained from your body, fat grafting is less likely to cause any severe side effects, and the results will look entirely natural.
Are You Looking for More Fullness Without Adding Anything to Your Lips?
Not everyone wants to add a material to their lips (whether natural or synthetic).
Lip lift surgery is a cosmetic surgical procedure that essentially shortens the distance between the top of the lip and the nose. 
The procedure increases the amount of pink tissue with the aim of making your lips look fuller and more attractive. Although this procedure is highly effective and will give you long-lasting results, it will take you a few weeks to recover from the surgical procedure and realize its full benefits.
The procedure is ideal for older people whose lips have lost volume due to aging. Younger patients who don't like the unnatural appearance associated with injectable fillers can also benefit from lip lift surgery. 
Therefore, if you want permanent lip augmentation results and have the time needed for recovery, then a lip lift surgery may be an excellent lip augmentation technique to consider. 
Want to Plump Your Lips? Learn More About Your Options in Pasadena, CA.
If you would like to enhance the volume and the fullness of your lips, there are several cosmetic procedures you can consider. The best one for you depends on how soon you want to see the results and how long you would like the results to last. 
Call us today at (626) 988-4287 for more information about your lip augmentation options.