Does the appearance of puffy cheeks or an unflattering jawline disturb you? Are you ready to make a lasting change but are not interested in plastic surgery? Sculpt a beautiful new you with non-invasive Evoke facial remodeling at Taylor Plastic Surgery Center in Pasadena, California.
Evoke by InMode is a hands-free device that applies radio-frequency energy to reorganize and remodel the facial and submental tissues.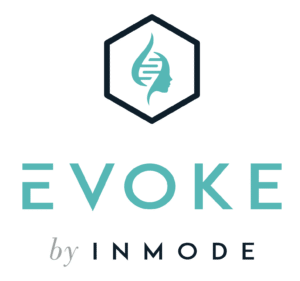 Am I a Candidate for Evoke Facial Remodeling?
Do you want to look more youthful? Are saggy jowls a problem you want to get rid of? Would you like to tighten the area under your chin?
If surgery is something you would like to avoid to achieve these results, then you may be the right candidate for Evoke facial remodeling. Candidates are healthy men and women looking for more defined facial characteristics.
How Is Evoke Facial Remodeling Performed?
Evoke facial remodeling is a non-invasive, non-surgical method of delivering more aesthetically pleasing and defined contours along the face, particularly the cheeks, jawline, and chin area. This cutting edge, medical-grade technology applies heat through bipolar radio-frequency (RF) energy to help restructure facial tissue.
Your aesthetician places the specially designed headgear over your head and along your cheeks or under your jawline. This fully programmable, hands-free equipment targets the problem areas and provides uniform heat distribution for top-quality results. You may feel mild warmth during the procedure.
Your physician can easily monitor the process from a treatment screen nearby. Evoke has built-in features that also monitor temperature and help ensure maximum safety. The simple, hands-free process allows you to read, nap, or even watch TV during your treatment
Thomas S. Taylor, MD, FACS