The ultimate goal of most cosmetic surgery procedures is to TIGHTEN skin. Breast skin is filled out and tightened with implants or by doing a breast lift, abdominal skin is tightened by cutting out the loose skin with a tummy tuck, thigh and arm skin is tightened by liposuctioning the underlying fat which allows the skin to shrink gradually, and facial skin is tightened by removing skin with a facelift or filling out the surface with injectables. The common denominator is loose skin. Until recently, there has been no reliable method of tightening skin without cutting, filling, or expanding it. BodyTite™ is a scarless, minimally invasive approach to skin tightening and fat reduction that results in a rapid recovery and natural body sculpting.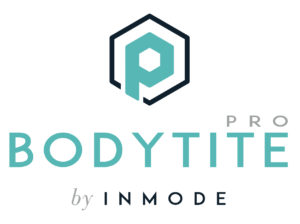 Schedule Your Consultation Today
VERSATILE TREATMENT
BodyTite™ is a new technology that uses radiofrequency heat and energy to tighten skin specifically. It is typically done during liposuction but can be done alone if liposuction is not necessary. BodyTite™ is the only FDA-approved device that uses radiofrequency-assisted liposuction (RFAL™) technology to destroy fat and correct skin laxity simultaneously. It can also be used independently of liposuction to tighten skin alone such as around the knees, elbows, neck, and face.
Dr. Taylor can evaluate those who would like to target stubborn, localized body fat and skin laxity during a personal consultation. To determine whether you are a good candidate for BodyTite™, you and Dr. Taylor will discuss your goals, medical history, and medical conditions.
NON-SURGICAL BODY CONTOURING
There are two essential criteria for a good liposuction result: the amount of subcutaneous fat removed and the degree to which the overlying skin shrinks after the fat is removed. There are various methods, such as laser liposuction, VASERlipo®, power-assisted liposuction (PAL), and SmartLipo to name a few, that help remove fat, but only BodyTite™ has been shown to significantly tighten the skin at the same time.
BodyTite™ can be used for body contouring of the abdomen, hips, arms, thighs, and buttocks. By targeting both skin laxity and excess fat deposits, BodyTite™ delivers enhanced and extensive contouring effects.
MINIMAL DOWNTIME
Treatment with BodyTite™ does not involve creating any incisions, which allows for a quick and smooth recovery. The heating produced by the BodyTite™ device also minimizes side effects, such as bruising and swelling, which provides for a comfortable healing period that does not require significant downtime.
Patients can resume their usual schedule faster after BodyTite™ than after traditional and invasive body contouring procedures. They can feel like themselves again and enjoy their sculpted physique sooner.
PROCEDURE
The BodyTite™ device consists of an external electrode overlying the skin and an internal cannula with an electrode on the tip, which is inserted through tiny incisions. The internal electrode delivers focused energy to fat and the deep surface of the skin while the external electrode heats the surface of the skin. This causes liquefaction of the unwanted fat and contraction of loose skin at the treatment site. Built-in thermostats on each electrode allow careful and specific monitoring of real-time tissue temperatures to prevent burn injuries. It has been shown that heating the outer and inner surfaces of skin to critical temperatures results in significant skin contraction. In addition, radiofrequency energy is a powerful stimulator of collagen synthesis. Over a period of several months, a thick layer of collagen forms under the skin in the treated areas. Collagen acts like an internal glue that further tightens the skin and smoothes its appearance.
RECOVERY
Typically, patients can return to work within a couple of days to a week following their BodyTite™ treatment. Patients usually experience minimal bruising and swelling, and normal activities can be resumed shortly after the procedure.
SCARS
Because no incisions are needed during a BodyTite™ procedure, the treated tissues do not experience trauma. This approach delivers beautiful scarless results.
COST
The cost of BodyTite™ varies depending on each patient's individual aesthetic goals as well as the number of areas treated. An accurate price that covers your personalized treatment plan will be determined for you during your initial consultation.
PAIN
BodyTite™ treatments can usually be done under mild sedation anesthesia to ensure total comfort. Most patients report feeling a slight tingling, warming sensation during treatment. There is some discomfort after the procedure, but it is not a surgical type of pain. Rather, it is a feeling of stiffness and tightness that can easily be controlled with OTC medicines or mild strength pain pills.
FAQs
What are the requirements to undergo a BodyTite™ procedure?

Those considering BodyTite™ treatment must be in good overall health and have a reasonable expectation of their results. Be sure your medical provider is aware if you:

Have any skin conditions
Have a skin infection in the treatment area
Have an autoimmune disease
Have abnormal reactions to local anesthesia
Are pregnant or breastfeeding

What results can I expect from BodyTite™ treatment?

Patients will notice an improvement in the quality of their skin and the definition of their body contours over time as they metabolize the targeted fat cells and the treated areas adjust to their newly enhanced shape. Results from BodyTite™ treatment are considered permanent as long as patients maintain a healthy, active lifestyle.

How long does a BodyTite™ procedure take?

Because this is a one-step procedure, a BodyTite™ procedure is faster than other laser-assisted fat removal treatments. The entire process takes between 30 minutes and four hours depending on the number of treatment areas and the desired extent of correction.

How many BodyTite™ sessions do I need to achieve the best outcome?

Most patients only require one treatment session to achieve their unique cosmetic objectives. Additional follow-up appointments may be scheduled in the future for maintenance, if necessary.
Thomas S. Taylor, MD, FACS