Repetitive facial movements such as squinting, smiling, and furrowing of the brow cause the skin to stretch, creating wrinkles and folds. The RHA® Collection of dermal fillers is the latest advancement in hyaluronic acid filler science, designed to treat dynamic wrinkles and folds caused by repeated muscle contraction.
The FDA-approved filler mimics natural hyaluronic acid and seamlessly adapts to your facial movement to create beautiful, natural-looking results.
How Can I Benefit From the RHA® Collection?
The RHA® Collection (resilient hyaluronic acid) may be the ultimate solution for anyone struggling with dynamic wrinkles, such as smile lines, frown lines, forehead wrinkles, or crow's feet, and would like to achieve smoother and more youthful skin without surgery. The resilient hyaluronic acid replenishes your skin's natural hyaluronic acid, restoring volume and softening facial wrinkles and folds.
If you have a history of multiple severe allergies or are allergic to lidocaine, make sure you mention this to your doctor. Ideal candidates should be in good health and have realistic expectations of the outcome.
WHAT CAN I EXPECT FROM MY RHA® COLLECTION INJECTION?
First, the area is thoroughly cleaned and sterilized. The RHA® filler is then injected into the desired areas using tiny needles. There are different formulations in the RHA® Collection, varying slightly in gel densities and properties. All formulations contain a small amount of lidocaine to manage discomfort during injection.
The treatment will be completed in about 15 to 30 minutes, depending on an individual's needs and aesthetic goals.
What Is Recovery Like After an Injectable Treatment?
As with any dermal filler treatment, patients can expect to experience mild swelling and bruising, which should dissipate within 24 hours of the injection. Typically, there is no downtime with RHA fillers, so feel free to resume work and daily activities immediately after the treatment.
Patients should avoid strenuous activity and sun exposure for optimal results.
What Results Can I Expect From the RHA® Collection?
Following treatment, you will enjoy a smoother, more youthful face that stays beautiful whether you are expressionless or emoting—smiling, frowning, yawning, etc. An increased facial volume with greater facial structure definition can also be expected.
You do not have to worry about looking stiff or unnatural after your treatment as RHA® fillers are specifically designed to deliver immediate, natural-looking results for dynamic areas of the face—which can be difficult to treat with standard dermal fillers.
RHA® filler results are proven to last up to 15 months, making them longer lasting than standard hyaluronic acid fillers.
Patients are advised to return for top-up or maintenance treatment before the results wear off to maintain their improved look.
Before or After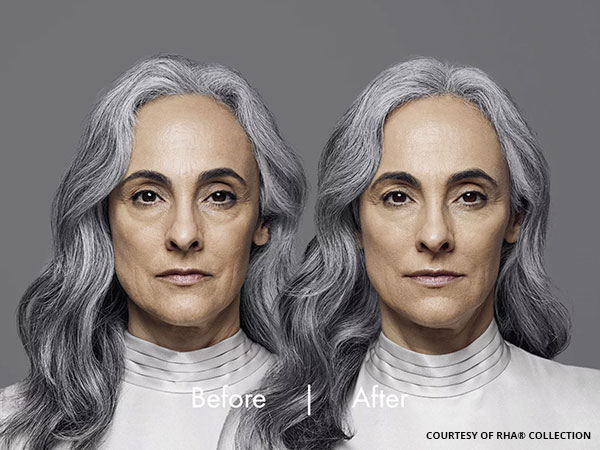 Interested in RHA® Collection in Los Angeles, California?
Do you feel it is time to finally say goodbye to wrinkles and folds? At Taylor Plastic Surgery Center, we are pleased to be one of the select few practices offering RHA® fillers to help transform your appearance with plump and youthful skin.
Schedule an appointment by filling our online form or calling at 626-577-7730 to learn more about RHA® fillers and determine which filler type is best for your concerns and aesthetic goals.
Thomas S. Taylor, MD, FACS