Why Should You Try BodyTite® Before Summer?
Posted May 10, 2022 in Body Contouring, BodyTite™
3 Minute Read: 
Do you want to get rid of stubborn fat in your body — preferably before the hot Southern California weather sets in officially? 
You have a lot of options when it comes to body sculpting and body contouring, both surgical and non-surgical.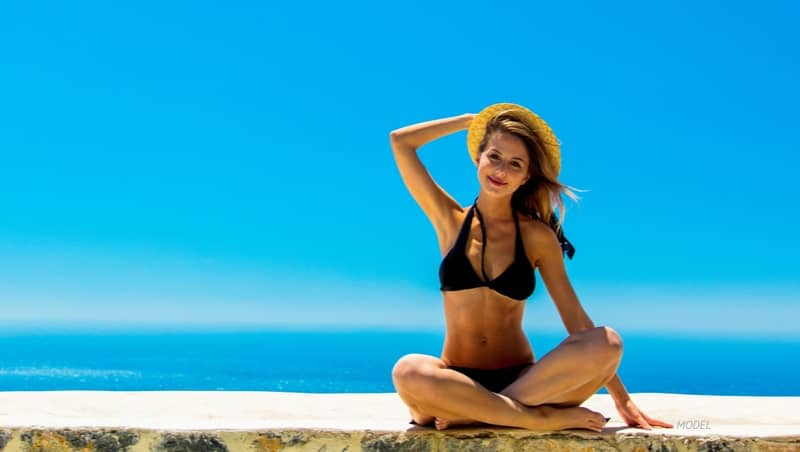 There is no denying that there are benefits to both, and it is true that surgical procedures produce more comprehensive and stunning results. But not every patient wants or needs a surgical body contouring procedure — and not everyone can or wants to deal with the recovery period.
Instead, why not try a minimally invasive body sculpting and skin tightening treatment before summer!
BodyTite® is a provenly effective radiofrequency skin tightening and body sculpting treatment, and it can provide a significant improvement for your laxity concerns. With successful treatment, you can rock your favorite bikini or dress this summer, hopefully feeling more confident than you have in years. 
7 Reasons Why You Should Choose Minimally Invasive BodyTite® for Your Body Sculpting
BodyTite® (by InMode) offers a wide range of benefits. Here are just a few!
1. Effective Skin Tightening
Unlike traditional liposuction, which does not tighten skin, BodyTite® helps address loose skin by contracting the tissues. 
BodyTite® is a radiofrequency-based treatment. During the process, RF energy is emitted through a probe inserted beneath the skin. 
2. Effective Body Contouring 
BodyTite® manages to accomplish what so many other non-surgical and minimally invasive treatments try to: skin tightening and fat reduction. 
This combination is rare with non-surgical treatment, and few achieve the results possible with BodyTite®. 
In addition to contracting the tissues, BodyTite® uses radiofrequency-assisted liposuction (RFAL™) to destroy unwanted fat pockets.
3. Minimum Downtime
The procedure is sometimes combined with or without  surgical liposuction and skin excision, which means better results.
As a patient, you'll usually only have four days of downtime, and you should be fully recovered within a week or two. 
This is why people prefer BodyTite® rather than surgical operations (like tummy tuck surgery), which may take months to heal.
Note that not all patients will be candidates for the procedure. A consultation with Dr. Taylor is necessary to determine the right aesthetic treatment or surgery for you.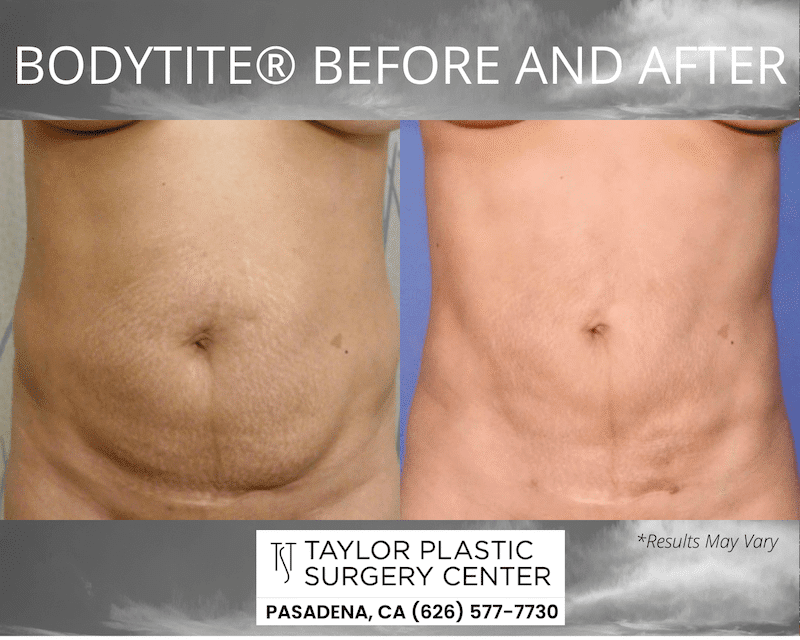 See our results by visiting our BodyTite® before and after gallery.
4. Minimal-to-No Scarring
Surgical procedures are synonymous with hefty scars, but BodyTite® is different. 
Because this surgery does not involve traditional incisions, there will be minimal to no scars visible, and any resulting marks on the skin should fade away quickly. 
Additionally, there should be minimal pain, bruising, and swelling after the treatment — and some patients experience no discomfort at all.
5. BodyTite® Is Suitable for Most Patients
Any healthy person who is above 18 years can likely get a BodyTite® treatment. However, it's recommended for you to schedule a consultation with a specialist like Dr. Taylor from Taylor Plastic Surgery Center to ensure that you're the right candidate for the procedure.
This procedure is safe for all skin types.
6. Fast-Working Results
You will start to see the improvement in your appearance soon after your BodyTite® procedure, with the fat reduction one to three months after treatment and final skin tightening results usually developing six months to a year after treatment. 
7. No Risk of Thermal or Heat Injuries
The BodyTite® device monitors both your internal and external temperature. The system has a protection mechanism that automatically shuts down when the energy in these variables reaches an excessive level. 
It's a process that helps you avoid any thermal or heat-related injuries.
Where Can You Get the Best BodyTite® Services
BodyTite® is one of the best minimally invasive procedures that help you achieve your desired aesthetic goals. Even though the procedure is safe and effective, you need to look for a certified and experienced BodyTite® expert.
The team at Taylor Plastic Surgery Center has much experience and has seen incredible success with BodyTite®. For inquiries, contact Dr. Taylor and his team at (626) 577-7730.