Summer Self-Care Guide: The Best Heat and Thermal Treatments for Summer
Posted June 15, 2020 in AccuTite™, BodyTite™, FaceTite™, Votiva
3 Minute Read: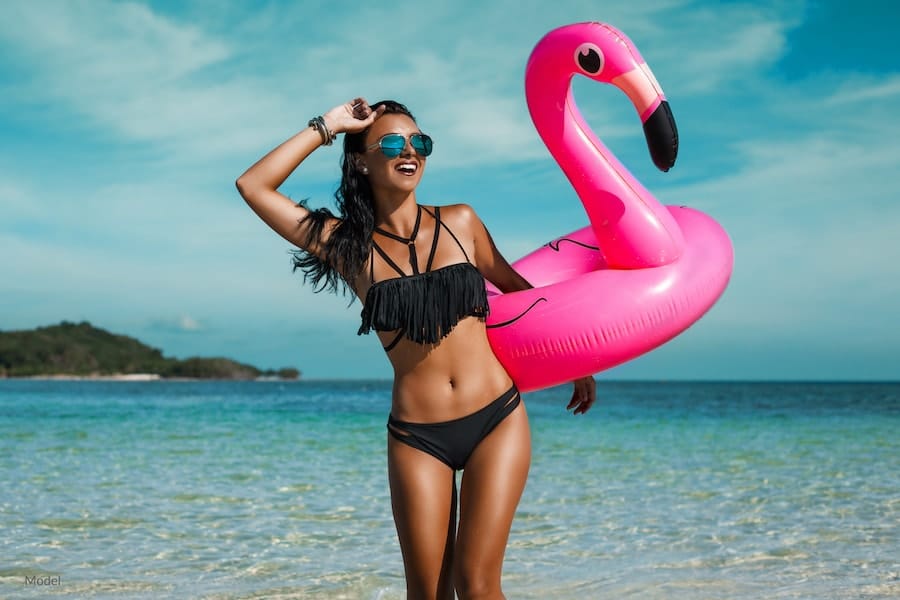 If having a summer body is a priority for you (but you don't want to or aren't ready to undergo surgery), you still have options. With thermal treatments, not only can you rejuvenate your body for summer, but you can also give your skin the attention that it deserves. By turning back the hands of time, you'll notice how much younger, fitter, and more attractive you look.
What Are Radio-Frequency Assisted Lipolysis (RFAL) Treatments?
Radio-frequency assisted lipolysis (RFAL) is a unique process that uses radio-frequencies of various intensities to heat and treat tissue. It helps "melt" fat quickly and effectively. The treatment rejuvenates the skin by stimulating collagen production, which creates a more youthful look by tightening and thickening the skin.
What Can I Expect from a BodyTite® Treatment?
Tighter skin is a desire of many people hoping to achieve a summer-ready body, and it's the ultimate result of a BodyTite® treatment. This minimally invasive body sculpting solution focuses on the arms, legs, stomach, breasts, and even face to give you the desired summer look you were hoping to achieve. This RFAL treatment can be combined with liposuction; however, it isn't a requirement.
How Do I Benefit from FaceTite® Procedures?
FaceTite® focuses on the face to restore smoother, tighter, and younger-looking skin. You can have the procedure done in no time and be ready to rock your new summer look right away. This thermal treatment benefits women and men who might have once been recommended for facelift or neck lift surgery.   It is also a great treatment for those who are not ready for a facelift or do not want the downtime of a surgery.
How Can AccuTite™ Help Me Look My Best?
AccuTite™ addresses smaller areas that need attention. Unlike FaceTite® or BodyTite®, this treatment is able to treat those hard-to-reach places, allowing you to look and feel your best. These areas include the brows, laugh lines, face, eyelids, chin, upper arms, knees and hands.
Is Votiva Safe and Pain-Free?
Votiva is a non-invasive treatment option that helps rejuvenate the skin in the vaginal area. Women who have had children, lost collagen, have lower estrogen levels, and are aging are excellent candidates for this therapy. Results are apparent after one session, making your intimate areas look younger and tighter.
How Can Morpheus8 Improve My Facial Contours?
Morpheus8 combines microneedling with radio-frequency energy to stimulate collagen, tighten skin, and remold facial contours. The radio-frequency emitted during the treatments heats the tissue, causing connective tissues to contract and excess fat to vanish.
Can Fractora™ Boost My Self-Confidence?
Fractora™ uses RFAL technology and microneedling to give the skin's surface a smoother texture and more youthful appearance. It's minimally invasive and softens, brightens, and tightens your face and neck, removing years of sun damage and signs of aging.
Pamper Yourself This Summer With the Thermal Treatment of Your Choice
Contact Taylor Plastic Surgery Center to schedule your summer self-care session. Call us at (626) 577-7730 or fill out our online contact form to book an appointment today.
Look and feel your best this season with the right treatment for your body or face!