Liposuction or CoolSculpting®
Posted August 23, 2018 in CoolSculpting, Liposuction
How do you decide between liposuction and CoolSculpting®? First, let's take a look at the similarities. Both procedures are used to permanently remove fat cells from the target area. This is done in order to sculpt and contour the body and eliminate fat in areas that are hard to target through diet and exercise alone. Neither of these procedures should be used as a weight loss solution. Patients should be at or near their goal weight and committed to maintaining it with a healthy diet and exercise program. If you are in good health and are willing to maintain your lifestyle, then either of these procedures could work for you. When trying to decide which treatment to undergo, you should consider factors like cost, recovery time, and the number of procedures required.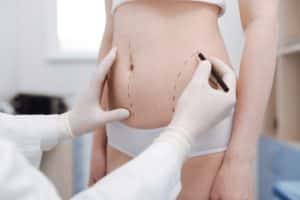 Cost
While CoolSculpting® is less expensive per treatment ($600 to $1,200 per treatment area depending on the size of the area), you may need multiple treatments in order to achieve the results desired. The American Society of Plastic Surgeons currently estimates the average cost of liposuction to be $3374, but that does not include other costs like hospital and anesthetic fees. However, most patients only need one liposuction procedure to show results.
Recovery
Liposuction patients can usually return to normal activities within two weeks, but swelling may not dissipate for a few months. CoolSculpting® only requires one to three hours for treatment, and the patient can return to normal activities immediately after treatment. Swelling will go down within a few weeks.
Results
Both procedures begin to show results within a few weeks as the swelling goes down. Liposuction allows for more fat to be removed in one treatment, while CoolSculpting® is usually used for treating small areas like the love handles or muffin top. Liposuction requires incisions to be made and so carries the risk of infection and bruising. CoolSculpting® is non-invasive, but the patient may feel some tingling after the treatment that will go away fairly quickly.
If you have more extensive areas of fat you wish to remove and don't mind taking some time off for recovery, then it is likely that liposuction is the right choice for you. On the other hand, if you only need minimal shaping and want less recovery time, CoolSculpting® may be the better choice.
There are many other factors to consider, but a consultation with your plastic surgeon can help you decide what the best course of action is to achieve the look you desire.
For more information about which procedure is the best choice for you, contact Dr. Taylor by calling (626) 577-7730 to schedule your consultation.