The Facelift Is Over: How FaceTite® Can Restore Face and Neck Balance
Posted April 30, 2020 in FaceTite™
3 Min Read: 
Aging often brings with it a range of undesirable changes to our faces and bodies—and sagging skin along the lower face and neck can hit the ego hard. Unfortunately, sagging facial skin and jowls are hard to address without surgical intervention. This is why almost 122,000 men and women underwent facelift surgery in 2018.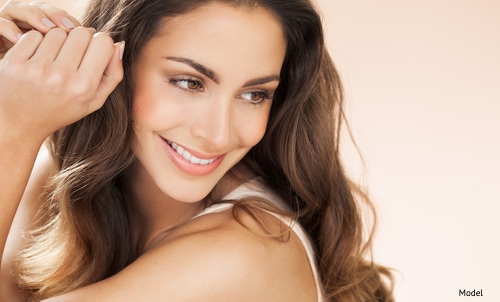 For years, facelift surgery offered the only fool-proof way to address sagging skin and jowls since non-surgical treatments tend to provide less reliable results. While non-surgical technology is entirely beneficial (and can be an alternative to facelift surgery for particular qualifying patients), they have never been considered a true "replacement."
However, now, FaceTite® is trying to change that.
What Is FaceTite®?
As "the next best thing to surgery," FaceTite® by InMode offers a safe and effective alternative to scalpels and incisions. FaceTite® relies on radio-frequency heat to tighten skin and tissues and correct a droopy, saggy profile.
Unlike many non-surgical treatments, FaceTite® has the capability to tighten skin and remove fat (such as the fat that accumulates beneath the chin). By eliminating submental fat and tightening tissues on the lower face and neck, many potential facelift and neck lift patients are finding correction with this less invasive treatment.
How Does FaceTite® Work?
FaceTite® helps to contour your face and neck without exposing you to the potential risks associated with a surgical procedure.
FaceTite® uses radio-frequency heat to melt away fat deposits and promote tissue remodeling and coagulation (meaning tightening). A tiny incision is made in the lower face (such as along the jawline or on the neck), and a thin antennae-like probe is inserted beneath the skin. This probe heats the tissue, allowing for tightening of the internal tissues while an external electrode tightens the upper layers of skin.
Since the incision is so small, you will not see a scar after your FaceTite® treatment, and because this procedure is less invasive than a facelift or a neck lift, the recovery process is much quicker.
Is FaceTite® FDA Approved?
FaceTite® is the only device using radio-frequency-assisted liposuction (RFAL™) that has been approved by the FDA.
With FaceTite®, you can say goodbye to unwanted neck fat and loose skin that can ruin your profile by inhibiting the sharp angles of your facial contour.
This same procedure also works on other problem areas, such as the elbows, knees, abdomen, and hips, using similar BodyTite® or AccuTite™. These machines allow patients to achieve stunning results.
How Long Does It Take to Recover From FaceTite®?
Thanks to the minimally invasive nature of FaceTite®, you may recover from your treatment in less than one week. Although the swelling and soreness are typically minimal, it is a good idea to plan on taking some time off of work.
Interested in Learning More?
Dr. Thomas Taylor is a board-certified and experienced plastic surgeon. You are in good hands with him, and you can count on a thoughtful and honest evaluation to help you determine the procedure needed to get the results you desire.
Request a FaceTite® consultation today by calling (626) 577-7730 or contacting us online.