Using Your Fat for a Better Butt Shape
Posted May 05, 2016 in Blog, Brazilian Butt Lift, Fat Transfer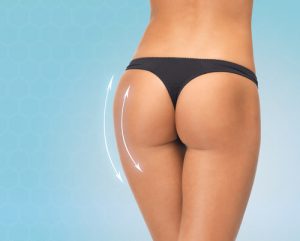 Fat may not be a "four-letter word," but we do dread hearing it. We try to avoid fat in our foods and try to get rid of the fat on our bodies. But, what if someone told you there is a situation when fat can positively impact your life? That's right, fat can be a good thing! Especially when the trend of a big, round butt is glamorized by celebrities such as Jennifer Lopez and popular songs such as "Baby Got Back." Fat transfer surgery, commonly referred to as the Brazilian Butt Lift, involves using fat to augment the buttocks.
Get Your "Back" Into Shape
The famous "J-Lo" booty and Kim Kardashian curves have made butt enhancement procedures high in demand. The growing societal norm is to have a big, round bottom; it is sexy and flattering to the entire physique. Many women have tried exercises such as lunges and squats but have yet to achieve a shapelier derrière. The Brazilian Butt Lift uses liposuction to extract fat from an unwanted area of the body, and then the fat is used to augment and shape the buttocks. This procedure has the double benefit of creating a curvier, fuller bottom while providing more slender, attractive curves in other areas.
Fat Transfer Benefits
Safe and effective

Augments and shapes the buttocks

Eliminates excess fat from an unwanted area

Results look and feel natural
Using liposuction, Dr. Taylor can sculpt and shape the body into more flattering curves. Fat is commonly harvested from the thighs, hips, and/or abdomen. Dr. Taylor will remove the fat from one or more of these areas and then clean and purify it in a centrifuge. The newly concentrated fat will be loaded into syringes and carefully and strategically injected into the buttocks. Patients will experience some bruising at the injection site that can be alleviated with pain medications.
Once swelling and bruising have minimized, patients can enjoy their final results. The buttocks will have more volume and a rounder shape that looks and feels natural. With a healthy diet, weight maintenance, and exercise, patients can enjoy their results for many years with a fuller backside that complements the rest of the overall body shape.
Are you interested in the Brazilian Butt Lift? Dr. Taylor is an experienced plastic surgeon who can help you achieve a shapely backside. Contact his office to schedule your consultation by calling (626) 577-7730 or by filling out our online contact form.