Treating Your Facial Wrinkles
Posted January 11, 2017 in Blog, Injectables, Non-Surgical Procedures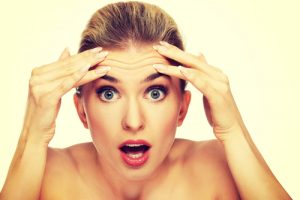 Are you tired of looking in the mirror and only seeing your wrinkles reflected back at you? Fine or deep wrinkles, as opposed to other common skin problems, are difficult to cover with makeup. Wrinkles are an unwanted sign of aging, but what can you do about them? For most, wrinkles around the eyes and mouth aren't severe enough to warrant surgical correction. If you want to restore a smooth, youthful complexion, it might be time to consider facial injectables.
What Are Facial Injectables?
Injectables come in two major categories: botulinum type A toxins or dermal fillers. Both are designed to smooth the appearance of facial wrinkles, provide fast-acting results, and aren't permanent. The most popular botulinum toxin is BOTOX® Cosmetic, and the leading dermal filler is JUVÉDERM®. However, each is used to target very different types of wrinkles, and your skin problems will affect which injectable is most suitable for you.
Using BOTOX® Cosmetic
As a botulinum toxin injectable, BOTOX® Cosmetic is designed to block neurotransmitters from reaching the facial muscles. This causes minor paralysis of the muscles, letting them relax. Most wrinkles of the upper face are caused by repeated muscle movements, so relaxed muscles result in a softening of wrinkles. This process should only be used to treat wrinkles of the upper face that can occur:
Around the eyes, like crow's feet

Along the forehead

Between the brows
Using JUVÉDERM® XC
JUVÉDERM® XC is a dermal filler, which works best to treat lower facial wrinkles around the mouth and nose. These wrinkles are commonly the result of collagen loss in the facial tissues. JUVÉDERM® XC smoothes away wrinkles by stimulating collagen production, thus restoring volume to the tissues.
Deep Treatments Using RADIESSE®
RADIESSE® is a dermal filler similar to JUVÉDERM® XC, but it is designed to work deeper within the tissues. It provides immediate and gradual collagen production for longer-lasting results. While it can improve wrinkles around the nose and mouth, RADIESSE® may also be used to reshape the nose, chin, and cheeks.
If you are looking to achieve a more youthful appearance without surgery, schedule your injectable consultation with Dr. Taylor today. Call us at 626.577.7730 or contact us online.