How a Facelift With Neck Lift Could Help You Look Years Younger
Posted January 26, 2016 in Facelift, Facial Enhancement, Necklift, Surgical Procedures
Your face is not the only part of your body that will show visible signs of aging. While wrinkles and volume loss manifest on your face, further wrinkles, loose skin, excess fat, and muscle bands may appear on your neck. Board-certified plastic surgeon Thomas S. Taylor, M.D. can perform a facelift with neck lift to minimize these signs of aging and help you look years younger.
Signs of Aging on the Face and Neck
The natural course of aging will eventually take its toll on your face and neck. Hereditary conditions, behavioral habits, sun exposure, and other environmental factors will also take their toll. Men and women may find that their faces and necks show the following signs of aging: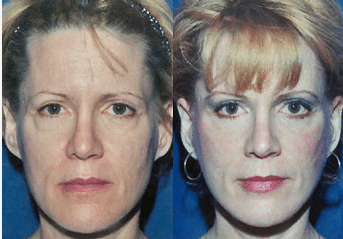 Loose or excess skin

Wrinkles around the eyes and mouth

Fine lines in the face and neck

Loose jowls

A double chin or chin folds

Muscle banding in the neck

Less definition along the jawline
The Facelift With Neck Lift Procedure
Individuals who experience these signs of aging on both their face and neck will benefit from undergoing a facelift with neck lift procedure. Dr. Taylor can perform this procedure in the office with only a local anesthetic. First, he will make an incision on the temple above the hairline. Next, he will raise the skin to reposition and tighten the underlying tissues. Adjusting these tissues will allow the skin to drape more naturally on the face for a more youthful appearance. After that, Dr. Taylor will remove the excess fat and skin that causes you to look older. Finally, he will close the incision and apply a surgical dressing to protect the incision site. The entire procedure lasts around two to four hours.
Benefits of a Facelift With Neck Lift
The enormous benefit of undergoing a facelift with neck lift is that the surgery will help you to look younger and to retain a more youthful and rejuvenated appearance for years to come. This procedure will improve the appearance of wrinkles, loose skin, and muscle banding to create a smoother, more youthful face and neck so that you can look as young as you may feel.
To find out more about how a facelift with neck lift could help you, schedule your personal consultation with Dr. Thomas S. Taylor. To book your appointment, please call our office at (626) 577-7730 or fill out our online contact form today.