Skin Care Services in Pasadena & LA
Sometimes, dramatic results can occur without anesthesia and operating rooms. Dr. Taylor offers several prescription-only skin treatments and alternatives to improve the wrinkles on the face. All our injections are administered by the doctor personally. Here are a few of the products available:
Bellafill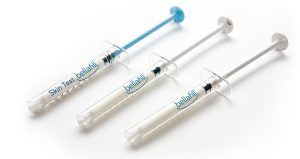 Bellafill is the ONLY dermal filler approved in the US for treating acne scars (Bellafill is approved for the correction of moderate to severe, atrophic, distensible, acne scars on the cheek in those patients over the age of 21 years old).
Bellafill lifts the scars for smoother looking skin. It provides immediate correction to the atrophic scars by lifting them to the level of the surrounding skin providing lasting improvement
In clinical trials 90% of patients were satisfied at 12 months.
All Fitzpatrick skin types were treated providing a option for darker skinned patients
PMMA micro particles help replace lost and damaged collagen by working with the body's natural process
Comfortable treatment with .3% lidocaine
Botox®
Want a way to prevent the deep lines that can form in your forehead or a way to possibly make them disappear? Then Botox® will be your new addiction. It is an easy, 15 minute nonsurgical treatment that works by relaxing the facial muscles that cause the lines in your face to form. The optimal results of Botox® usually last around 3-4 months. More than 11 million women and men have used Botox® and with fast noticeable results and no down time there is no question why. We have monthly Botox® Days, call to schedule an appointment today.
Clarisonic® Pro & Opal
The sonic cleansing provided is an essential first step to a healthy skin care routine. The brush head of the Clarisonic® Pro uses 300 movements per second which helps to loosens oil, dirt and makeup from your pores. It also exfoliates the skin helping to eliminate blemishes and minimize the appearance of pores.
The Clarisonic® Opal is a wonderful tool to help minimize the appearance of under eye bags and provides a refreshed look. It provides 125 sonic movements per second and comes with an Anti-Aging Sea Serum. This device provides maximum absorption that finger dabbing alone cannot do.
Latisse®
LATISSE® (bimatoprost ophthalmic solution) 0.03%
LATISSE® is a prescription treatment for hypotrichosis (inadequate or not enough lashes) to grow eyelashes longer, fuller, darker.
Who wants longer, thicker and darker lashes? Latisse® is the way to achieve those results. It is the first and only FDA approved prescription treatment for inadequate lashes. One should use Latisse® every night. Some people start to see results in as little as 4 weeks and achieve full results at 16 weeks.
Retail pricing for Latisse® is currently $110 per box.  You may consider calling us (Taylor Plastic Surgery Center- Sue/Gerogianna for any questions (626) 577-7730.
Juvederm XC®
Get the lips you have always wanted or get rid of the lines around your mouth and nose. JUVÉDERM® XC provides a smooth and natural look and has a new formulation enhanced for patient comfort. Results are instant and last up to a year. JUVÉDERM® XC can be injected to instantly restore the skin's volume and smooth away wrinkles and folds such as the "smile lines" or "parentheses" (nasolabial folds -the skin crease on each side of the face that runs from the outer corners of the nose to the corner of the mouth).
Radiesse®
Radiesse is a filler for deeper wrinkles on the face. This dermal filler gives volume correction immediately as well as delayed collagen stimulation for lasting results. It is best used in the "smile lines" or marionette lines. It can be used for total face filling, as well as the nose, chin and cheek shaping.
iS Clinical Skincare®
iS Clinical® is an exclusive skincare brand created and distributed by INNOVATIVE SKINCARE®, is comprised of exceptional, long tern "results-orientated" anti-aging and optimized skincare formulations.
Vivite®
Vivite is a skin care regimen based on GLX Technology. Viviteskin care formulations include active botanicals as well as leading-edge ingredients such as peptides to tighten skin and superoxide dismutase (SOD) to trap free radicals. This is a great solution for achieving the benefits of a prescription strength formula without the irritation.
Juvederm Voluma
JUVÉDERM VOLUMA™ XC injectable gel is the first and only filler FDA-approved to instantly add volume to the cheek area. It gives you a subtle lift, helping to restore contour and a more youthful profile, for up to 2 years, in patients over the age of 21. It's different than JUVÉDERM® XC and works on a different area of the face. JUVÉDERM® XC smoothes out moderate to severe wrinkles and folds around the nose and mouth, like parentheses. JUVÉDERM VOLUMA™ XC, however, adds volume to the cheek area.
What else should you know about JUVÉDERM VOLUMA™ XC?
First and only Hyaluronic Acid (HA) filler FDA-approved to instantly add volume to the cheek area, resulting in a subtle lift
Clinically proven to last up to 2 years with optimal treatment
JUVÉDERM VOLUMA™ XC is from the makers of the #1 family of fillers
After 24 hours, you should be able to resume your normal activities
Side effects are moderate and generally last 2 to 4 weeks. Common side effects include temporary reactions at the treatment site such as tenderness, swelling, firmness, lumps/bumps, bruising, pain, redness, discoloration, and itching.